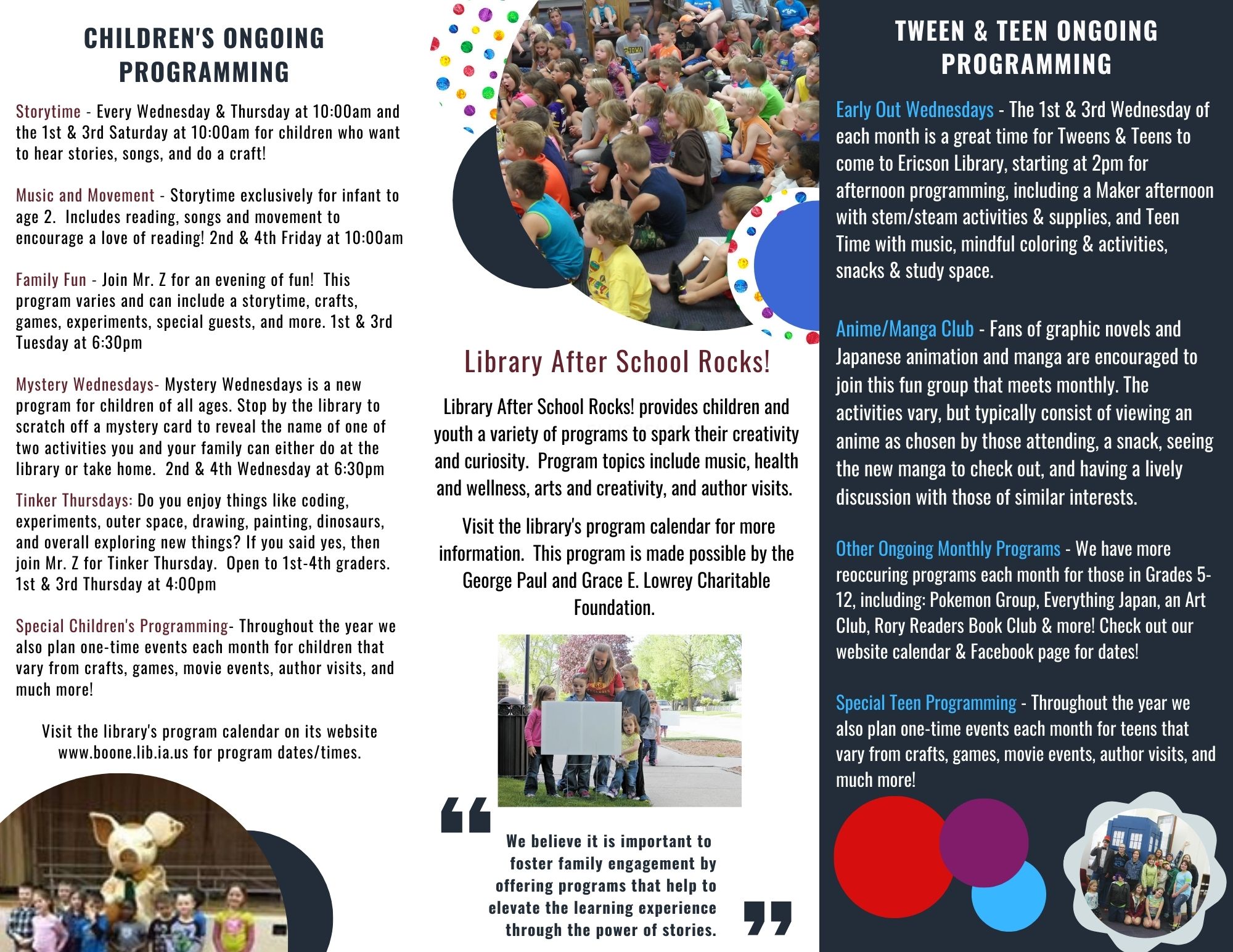 Children's Collections
The Children's Department has a wide selection for every reading level. Learn more about the collection!
To explore the Children's catalog from home, please click here: Children's Catalog
Collections in the Children's department include fiction and non-fiction books, graphic novels, fiction and non-fiction DVDs, audio cds, audiobooks, holiday books, toys, puppets, read-alongs, and more!
The Juvenile fiction books are divided into categories by reading level. Learn more about each category.
Children's Resources
For online learning, or playing educational games in the library we offer many resources for children from birth to tweens. We also have STEM kits, LEGO® sets, puppets to check out or to put on a show at our puppet theater, puzzles, train tables and other play to learn activities for little ones.
Brainfuse HelpNow- An all-in-one suite of tutoring services designed for a wide range of academic needs whether it's a tough homework problem, mastering a particular topic, or writing a paper.
Brainfuse JobNow- Focus on college skills- SkillSurfer: Live skills tutoring and an extensive library of lessons, videos tutorials, and practice tests including SAT, ACT, GED, GRE, and more Flashbulb: Versatile study tool where you can create flashcards, browse the extensive flashcard library, and play study games.
We also have 2 Early Literacy Station™ computers for kids to learn on that have 4,000 localized learning activities
Children's Programs
1000 Books Before Kindergarten

can be used with Beanstack to track books through the online tracking program OR you can register online here and use paper forms to keep track of the books you read. We want it to be convenient for you so we are offering whatever option makes the most sense for your family!